Clubs and Organisations
Clyde Cardinia Rural Fire Brigade

The Clyde-Cardinia Rural Fire Brigade was formed in 1944 after a disastrous fire swept from Pound Road south towards the Tooradin Railway Station. Many miles of fencing were destroyed along with 11 houses and 22 sheds.

Initially the brigade began their activities in Region 8 with only beaters and knapsacks and other small equipment purchased with a membership fee of 2/6d and a voluntary levy of 5/- per hundred acres on landowners.

This equipment was based at the farm of our first Captain, Albert Hopgood, when on receipt of a fire call, required loading onto his farm truck for transport to the fire scene.

In 1949 in an effort to improve turnout time, a decision was made to purchase a new Baby Quin four wheel trailer, on which all equipment would be permanently located, ready for towing to the fire. This was also located at the Hopgood farm.

The theory was excellent, saving an amount of time, but practice did not allow for the very rough potholed roads, the strong springs of the trailer which scattered equipment all over the floor when towed at speed, even catapulting some completely over the side. So in 1952 the brigade purchased a lend lease ex army Chev truck, in good order, with about 2 foot sides for ₤400. This was financed by an interest free bridging loan of ₤100 from each of four landowners, until the trailer could be sold. This was also based at the Captain's farm. A lowdown pump and square tank was then added to the gear.

The brigade then required a building, in a central location to house the truck, also to serve as a venue for the monthly meetings, which had been held in rotating at the Clyde, Clyde North and Cardinia Halls.
With the Country Fire Authority securing the present site through a 99 year lease with Victorian Railways, a special building appeal was launched throughout the district in 1953, raising ₤385 a tremendous effort. This was sufficient to purchase the building materials and a galvanised iron structure was erected by working bees and served our needs until 1975.
Amenities in our meeting room were somewhat austere, the seating being hardwood batons fixed to wall brackets, a dirt floor with the wind howling under the walls so we did not meet in July or August. .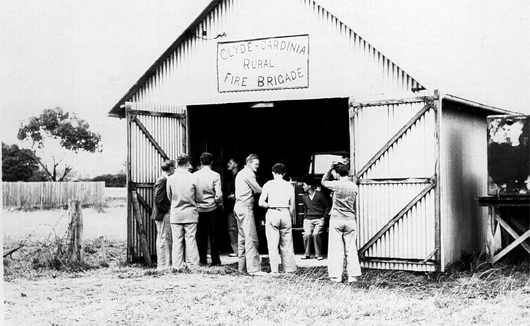 Some Foundation Members
L_R: Ian Twyford, unknown, unknown, (two hidden) Merv Campbell, Clive Pitman, unknown,
Billy Harrison (sitting), unknown, partially hidden (Don McAleese?)
Note the water tank on the right.
Photo courtesy of Pitman Family

Very early Demomstration Competition Team
L_R: Bill Campbell, Merv Campbell, Don McAleese, Edgar Pitman ?, Ian Twyford, Clive Pitman, Arch Gardner
Photo courtesy of Pitman Family .
Some members of the Clyde and Cardinia Rural Fire Brigade 1957.
Kelvin Jones, Ernie Hopgood, Niel Gray, Billy Harrison and unknown Cardinia man.
Photo courtesy- Margaret Adams
(nee Gray)
In 1959 the Regional Officer later Senior A.C.O. Tom Morrison, suggested that the C.F.A. would provide 6 cubic yards of concrete for the floor if members could spread it. The cost of the concrete was ₤42, reinforcing ₤5/5 shillings. Seating arrangements were improved when foam rubber sheeting was donated by South Australian Rubber Comp. which was then covered by ladies to form cushions; also 25 padded seats from a theatre being demolished in Camberwell were purchased and were most appreciated
Our first radio, ex-army, was purchased in 1955 and we were very grateful to Merv Campbell, an amateur radio enthusiast, for maintaining it in good working order. In 1959 it was replaced with a new Harbros at a cost of ₤750.

Following a change of policy of the C.F.A., our truck was taken over by the Authority and later converted to a standard tanker. It served our needs until we were allocated our first Austin in 1963. This relieved the brigade of the drain of running and maintenance costs. This Austin was later replaced with a more modern unit which served us reliably until 1982.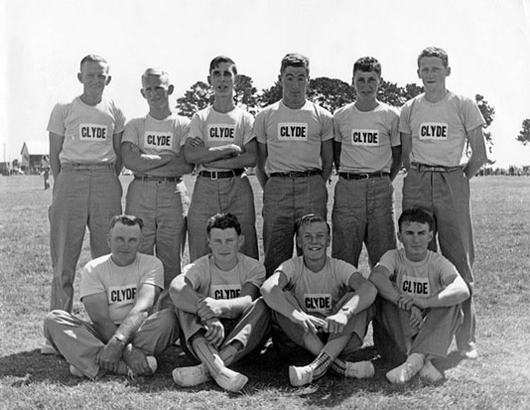 Back Row: Clive Pitman, Hank Dortman, Fireman 2, Ron Gardiner, Billy Harrison, Fireman 4
Front Row: Albert Hopgood, Cecil Hopgood, Fireman 5, Kelvin Jones
Photo courtesy of Clive Pitman

For several years brigade members had been regularly competing in competition work, accumulating numerous trophies in several regions. In 1970 it was suggested that better amenities were required allowing for indoor training in inclement weather and room for trophy cabinets. In 1971 an allocation of $2,100 was approved by the C.F.A. for extending the existing station. However after many consultations with our Regional Officer and Shire of Cranbourne building officers, we abandoned the idea of additions in favour of erecting the present brick building comprising a 50 ft x 25 ft (15.25m x 7.6m ) engine room and 20 ft x 20 ft (6.1m x 6.1m ) meeting room including small kitchen and toilets. This was mainly erected by working bees, the only paid tradesman being two bricklayers. This building was officially opened by Brigadier Eason, C.F.A. Chairman on November 2nd 1975.




Cost of the building was approximately $9,000 of which the C.F.A. contributed $2,800. This did not include the donation of 6,000 bricks, free cartage of all bricks (at a very early hour in the morning ), galvanised roofing for the main building, pre-fabrication of the steel work plus many hours of voluntary work construction

Worthy of mention, we commenced the project with $ 1,700 in the bank and when completed we still had $1,800.

Our old fire station was still very prominent, and on the Chairman's arrival, he enquired when we were going to demolish the eyesore. We replied that it was still structurally sound and had been erected with donated funds, and when assisted by the C.F.A., we would erect a new matching front and use it as a storeroom. He did not reply, but as he departed, he recommended that we lodge an application for funds as soon as possible, sending a copy to him personally.

Naturally the storeroom received our next priority and after being allocated $1,000, following discussions with the R.O. and Council Officers, advertised the old station for removal by tender, and a new brick building was erected on the site.

Due to the location of several major fire potential industries in our community, the next logical step for the brigade was to obtain a modern fire fighting appliance. Berwick Hi-Flame gas storage, where approximately 100 tonnes of LPG (Liquid Petroleum Gas) as is stored, Golden Poultry Feed Mills (Inghams), which presented a dust explosion potential, Edgells Vegetable Processing Plant, Cranbourne Pipes and Clyde Concrete, were all within the immediate area.

Being aware that under normal priorities adopted by the C.F.A. we would not qualify for a new unit, in 1979 a formal submission offering a substantial contribution towards the cost of a new International tanker was submitted to the C.F.A. through our R.O. Brian Dobson, and Zone Officer Keith Johnson and after consideration by the C.F.A. Board was accepted and the Acco was formally handed over on 23 rd Jan.1983.

In 1985 one of our members became aware that his employers were about to dispose of a Godiva pump in the tip. His application for the pump on behalf of the Brigade was granted, with the end result being a very effective quick fill mobile pump being constructed by brigade members for under $2,000. This is a valuable back up unit for the Brigade and Cranbourne Group.

Ten pagers were purchased in 1987 and cost $4,000.

Following a special meeting in Nov 1987 with R.O. Ian Symons to determine our next priority, the Brigade decided to proceed with extensions to the meeting room, incorporating an office, kitchen and toilets to serve our needs to the year 2000.

A building committee was appointed to prepare plans for submission to Council and C.F.A.  This committee visited many fire stations, incorporating improvements in their plans. Before construction could proceed, the end wall of the meeting room and the existing toilets required demolition, the septic tank raised and relocated, also due to amended building regulations, the main wall required raising three bricks higher, and the whole roof replaced. The work was carried out partly by working bees, partly by subcontracting and engaging finishing tradesmen.

Once again worthy of mention, at the completion of the project our bank balance was within $200 of when we started.

The Clyde-Cardinia brigade has adopted a policy of constantly improving its equipment and facilities, and, as happens in most brigades, this is made possible by the financial support of district residents.
May 2020: Clyde CFA has purchased and fitted out its new FCV (Forward Command Vehicle)