Stories and Inquests
1890's Ellinor-a girl's story
Ellinor Buchanan (nee Sharp) who lived in Tuckers Road

In 1861, when my mother was two years old, her father Robert Duff was killed when thrown frorn his horse against a tree on the way home from Dandenong market. Annie Adelaide, her sister, was four.They were both born at Maxifield, near Berwick, Victoria. Grandrnother married again in 1866, Edward Tucker from Cranbourne, and he died only six years later.

My mother- Emily Eva Duff and my father, Henry Clarke Sharp were married at my grandmother's home 'Fernlea' in Clyde (Victoria) in August 1889. My brother Harry was born a year later and I on 9 September 1892, my brother George in 1894. Of course I don't remember being born but my mother said I was in too much of a hurry and she wanted to wait for the midwife - so she crossed her legs.
The house we lived in was called 'Wilandra' after a station property in New South Wales where my father had been a jackeroo. Mother had a girl, Maggie Flynn, to help in the house. The Flynn girls were wonderful and two others carne after Maggie. Then we had Mabel G. who got into mischief with one of the workmen. Mother locked the door at night but never dreamed the workman helped Mabel out of the window. We had cows, probably Ayrshires, but not stud cattle, and we had a big cowshed with a race down the middle and about ten cowbails on either side.

The fresh milk was taken each morning to Clyde railway station loaded on the spring cart. Perhaps it was called a`spring cart' because it bounced over a rough road, but it certainly had no springs.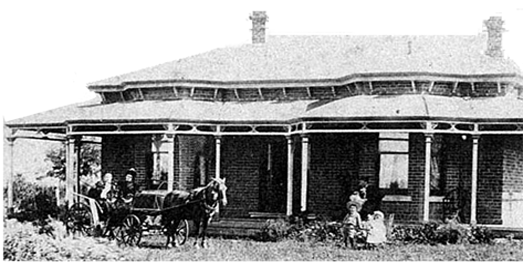 Harry, Ellinor, baby George and mother at Wilandra.
Grandmother Tucker in phaeton drawn by Toby.

The Farm in Clyde
Harry could not have been more than ten years old when he was entrusted to drive the cart to the station where probably a porter unloaded it. It upset my mother in case Harry had to unload on his own. The milk had first to be cooled in a cooler: a big square arrangement of tin with serrations and tubes that had cold water in them. The milk ran over the tubes and was cooled.

Father worked hard at sowing time. The paddock was ploughed with a horse and single furrow plough and then Father strode the paddock with the seed in a bag on his chest, flinging handfuls of seed either side as he walked. Then the paddock was harrowed.
1898 Dreadful fires in Gippsland
The summer of 1898 was the year of the dreadful fires in Gippsland. I was five and I sat on the steps of our home in the hot summer evening watching the fires burning. The whole of the Great Dividing Range seemed a ridge of flames in the night. Burning leaves were drawn up into the sky by the hot air currents and carried the fires for miles, and leaves of trees known to be growing no closer than sixty or seventy miles away were found afterwards. At Toora some of the children at school who had been told to wait for their parents becameanxious and started off home along the bush track. Five were burned to death.
"Wilandra", Tuckers Road, Clyde.
The home of the Sharp family.

The Sharp family children about 1897.
Ellinor, George and Harry.

When I was five years old I had my first trip to Sydney with Mother, Harry and baby George. It was nearly my last. We were coming up Pitt Street in one of the horse-drawn double-decker buses - the buses were drawn by four horses - and Mother and Great-aunt alighted at Farmers' corner. Mother went across with George and I was left with Aunt Tilly while she paid the fare, but I ran across the road to join my mother, right in the path of an oncoming carriage and pair. A man grabbed me by the armpits and swung me to safety on the pavement, a second away from the horses' plunging hooves. The horses' heads were right above me.
Going to the Presbyterian church in Cranbourne
I used to be taken to the Presbyterian church in Cranbourne, but not my brothers as it was a single-seated buggy and comfortable only for two adults and one child. It was four miles and it seemed to take a long time getting there as, sitting between my parents and being small, I didn't seem to get my share of air.
I liked the hymns. I am fond of church music but I got very tired of prayers and the talking of the minister which I did not understand, so once I watched a louse crawl on the collar of the boy who sat in front and I thought, `His older stepsister does not comb his hair with a fine tooth comb.' His mother had died when he was younger. My mother was careful with my brothers' hair and mine was plaited when I started school

When church at last finished there was further talk with friends, then we drove a short distance to some elderly relatives where I sat in the buggy while my parents paid their visit. Then we drove home and I was glad to have a hot roast dinner. I was then allowed to read my favourite Sunday stories in the Quiver - very heavy reading for children and about the Fairchild family where children never seemed to do anything wrong or get into mischief. On wet Sundays Mother would read to us from Sunday at Home. I liked that very much. Even my brothers liked being read to.

We all wore Sunday best for church, Father a stiff collar, white shirt and a suit fashionable for the day, and Mother's dress had a small bustle. Halfway we would meet our neighbours the Kennedys, returning from their Roman Catholic service, by which we knew we were on time. My father would pull up our horse and would exchange news with the Kennedys. Then we drove on and were in nice time for our service.

We paid an annual rent for our pew, an ordinary wooden pew with a place for a name card to be slipped in at the end of it. At the back of the church were seats for those not paying rent. I didn't sit in a box pew until I went to Sydney: There the usher would conduct us to the pew and he would shut the door when we were inside and only the minister could see us.

Twice a year the Reverend Mr Rock visited us at home. He would be entertained with ceremony in the drawing room and before leaving he'd always say, `We'll have a prayer'. I remember kneeling facing my chair for the prayer.

Two special ponies
My pony was called Toby. He had a habit of biting and always went for a barbed wire fence or the boxthorn hedge and tried to scratch me. When I used to take him into the garden to eat grass he wouldn't start until he'd been to the apricot tree where I reached for an apricot, then he turned his head sideways while I lent forward to give it to him.
I rode to school on a pony called Dick with a white star on his forehead. He was inclined to open gates so had to be shut up in the churchyard by himself because if he was in the schoolyard he'd open gates and let all the ponies out. He was a very handy pony and willing to take short cuts. I'd climb over obstacles and, taking the reins, encourage him to jump. Before I went to school my brother Harry said to me, 'Yah, you can't go to school until you can canter!' so one day I took Dick out on the road and kicked him and kicked him until he eventually decided to break into a canter, with me hanging on round his neck.

Her grandmother, Mrs Tucker, died in Clyde
I was eight when my grandmother Tucker died (Mother's mother). The clergyman had been visiting at `Fernlea' and he and my grandmother were sitting there talking when suddenly she said, `Oh, Annie!' (her elder child's name) and she died, sitting there. The clergyman came to tell Mother who was upset, and shortly he came out to where I was playing, with two half crowns in his hand. He said, `You take these over to your grandmother's. Knock - there is no need to go inside - and you are to say, "Put them on".' He repeated, `You've no need to go inside,' but when I got there the housekeeper asked would I like to see my grandmother so I went and saw her lying there. The half crowns were to keep her eyelids shut.
Bread, Meat, Mail deliveries in Clyde
At Clyde our bread was delivered by horse-drawn baker's cart, and the butcher came in a cart affair the back of which let down to make a shelf for him to weigh the meat on. Our school lunches were bread and jam. The mail must have come by train and the school teacher gave out the letters to the children to take home. I remember the smell of the red sealing wax which the schoolmaster used to seal the mail bag which was to go away. That meant school was nearly out

The failure of the Banks in Melbourne in the early 1890s brought poverty to quite a number of people, especially to single women depending on investments for their income. Mother always said that the Property Rights law came in just in time to save her. The new law passed meant that women could have money and possessions in their own right, but previously everything they owned or inherited became their husband's. Mother may have had a little money when Grandmother Tucker died, but she kept £100 each for our education. George wouldn't have cared if he'd never had another lesson in his life but when we moved to Sydney he was sent to the Workingman's College - the `Tech' - so that he could learn to do things with his hands.

The Railway Line
The railway line when it went through was very important to Gippsland. First it went to Korumburra and later the line was built to Welshpool: I think because Melbourne needed the fish. The railway lines had enabled the country to entertain Prince Alfred, a son of Queen Victoria, and his entourage. That was in 1867 but I remember being told about the train going through. I've an idea the prince may have been sent abroad to keep him out of mischief at home, but the history books don't say that.

Living in Clyde
I seem to have lived such very different kinds of lives - Clyde, Cranbourne, Flinders, Sydney, and this has been a little about Clyde where I was born: where we learned not to play under the clump of pampas grass or our fingers might get cut on the leaves, and where my mother gave us our first lessons round the table. George would disappear under the table.

Later, Clyde was where we went to school. I remember frosty days in winter with the water freezing to a thin sheet of ice on the shallow puddles, chilblains, and the ice frightening the ponies when their hooves cracked it.

When I was very young I always wore a pinafore over my dress and I had black stockings and buttoned boots. I usually rode astride but when we went to Flinders I had a side­saddle. There were no telephones, no wirelesses, no television, no cars and no aeroplanes. Queen Victoria's Diamond Jubilee was 22 June 1897, and the Boer War began in 1899. My elder brother Harry was always singing, `Soldiers of the Queen' - the words were on the back of a penny surprise-packet of lollies. In 1901 we moved to Cardinia before going on to Flinders, so I went to five different schools in all - Clyde, Cardinia, Flinders, Cape Schanck (called Blacks' Camp) Flinders and Merton Hall.
Editor's note: In "Look to the Rising Sun" p20, p29 there is reference to the 'old Cardinia School in Bould Road' which was attended by Bruce and Mary Smith from
St Mungo
on Ballarto Road Clyde.The Bould Road school was built in 1874. Could Ellinor have attended this school too? The Cardinia school No 3689 commenced in 1910.
Ellinor Margaret Buchanan
(nee Sharp

)

The rest of Ellinor's story can be found in the book "Yesterday's Daughters", Stories of our past by women over 70.
Ellinor was 89 years of age when she wrote about her life

Edited by Alma Bushell.
In a correspondence course programme the YWCA of Australia invited women over 70 to write about their lives.

Some of the stories that were sent in now form this collection.

Publisher: Thomas Nelson Australia, 480 La Trobe Street, Melbourne Victoria 3000 First Published 1986 Copyright Alma Bushell 1986 ISBN 0 17 006767]

Ellinor Margaret Buchanan
(nee Sharp) passed away on
7 October 1987 aged 95
Permission to reproduce this article given by Ian Bushell, 2012 , son of Alma Bushell
Both of Elinor's brothers, George and Henry Sharp enlisted for WW1. Their names are recorded on the
Clyde North School and Disrict Roll of Hono
r. Henry Sharp was killed in France 1917.