Maps and Roads
Historical Maps of Clyde (1857-1937)
7. Cranbourne Survey Map
(August 1924)


Clyde North, Clyde township and south of Ballarto Road. Shows telephone lines, water holes, windmills, houses, signposts






Military Map with a Mystery

Why would rural Cranbourne be mapped out by Australian Section Imperial General Staff?
Victoria, Cranbourne [cartographic material] / prepared by Australian Section, Imperial General Staff.
Great Britain. War Office. General Staff. Australian Section.
[Melbourne : H.J. Green, Govt. Printer]
1924
Australia 1:63,360 topo series
To display the entire map:
Click on the following link to view the entire map. It stretches from Pakenham to Mornington.

Details shown on this map include:-

| | | |
| --- | --- | --- |
| Sign Posts | Schools | Forge-Blacksmiths Shops |
| Post Offices | Post & Telegraph Offices | Water Holes |
| Windpumps | Telephone Lines | Houses |
| Sandpits | Gravel Pits | Tracks |
| Churches | Scrub | Timber areas |
| Altitude | Fathom Lines | Churches |
Scale: 1 inch to 1 mile
Road names to observe on this map.
| | | |
| --- | --- | --- |
| Road Name used on this map | Road named after | Road name in 2020 |
Clyde Road
From Five Ways to Berwick



Clyde and Clyde North towns



Clyde-Five Ways Road to Pattersons Road roundabout
Berwick-Cranbourne Road from Pattersons Road roundabout to Grices Road.

O'Connors Road
From O'Connors property to Main South Eastern Road

Terrence O'Connor, early land owner



Thompsons Road



Pattersons Road
From Cranbourne to St Germains Road

Alexander Patterson, early landowner



Berwick-Cranbourne Road to Pattersons Road and Clyde-Five Ways Roundabout.


St Germains Road
From Ballarto Road to intersection of Clyde Road and Grices Road

St Germains property



Pound Road



Other observations


1. Highest peaks in Clyde, 150ft above sea level
West of Clyde Road (Clyde-Five Ways Road), between Moores Road and Ballarto Road (165 Clyde-Five Ways Road)
Northern side of the Pound Road - Hardys Road corner and eastern side of Pound Road (1505 Pound Road and 1450 Pound Road)

2.The steep land slope between Ballarto Road (150 ft), Derricks Road (50 ft) and on the railway line south of Yallambee property (25 ft).
This explains why the railway was lowered below the road surface, building the Ballarto Road bridge, so that the steam trains could puff up the hill from Tooradin to Clyde.

3. Water hole at the end of Yallambee Road. Could this be the location of the Fields Water site?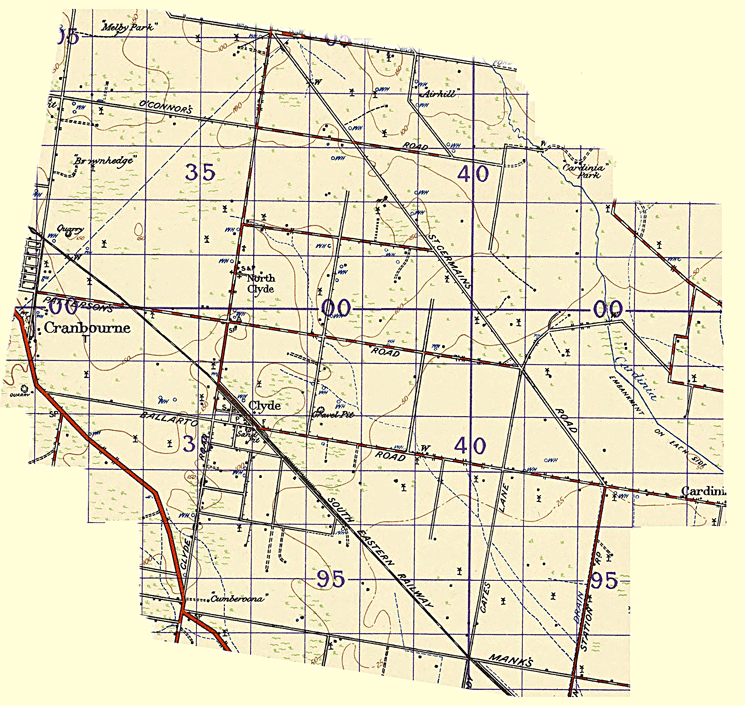 Clyde Section of the Military Map