Early Clyde Families
1848, PATTERSON-Alexander 83, J.P. (1813-1896)
Cranbourne Roads Board, Cranbourne Shire Councillor, Royal Agricultural Show,
Cranbourne Presbyterian Church, cattle breeder, grazier, pastoral pioneer.

Patterson was considered as one of Victoria's pastoral pioneers and one of the most influential men in the Cranbourne district.
Was born a native of Blawenie, Berwickshire, Scotland in 1813 and gained much of his early knowledge of stock from his grandfather. He came out to Adelaide, S. A. with his parents in 1839, but came to Victoria in 1842.

Patterson was overseer and manager of several stations in the Wannon and Glenelg districts before becoming a squatter in the Westernport district taking over the run of St. Germains from James Buchanan in 1848.

The original homestead which he built with his own hands in 1851 was not pulled down until 1893.

In 1859 he bought 3000 acres at £1 an acre which rose to a value of £30,000 in 1888. Patterson carried on cultivation, and the breeding of horses, cattle and sheep having 100 horses, 100 head of cattle and 3000 sheep in 1888.
He became a very successful cattle breeder introducing shorthorns of the Booth strain which fattened well on the flats and when the land was drained he also grazed sheep with good results. Patterson's old uncle John Denham, blacksmith of Ladykirk, Berwickshire, his cousin Robert Denham (1819-1860) and their family arrived in Melbourne 1858 and were soon living at St. Germains. Robert died in 1860 and his widow, Christina later married
Isaac Hook
of Clyde.
On October 6, 1856 the Mornington Farmer's Society was formed. Patterson had suggested the formation of such a body in 1856 and was instrumental in the foundation of the Society. He was also one of the first five on the Council of the Board of Agriculture and for sixteen years he was a councilor of the
National (Royal) Agricultural Society of Victoria
. ( His son, Thomas Patterson became the Royal Show secretary for 30 years.) With the support of Patterson and Ridgway Cranbourne became the centre for the Mornington Farmer's Society shows, the first being in 1857. Later shows were held on alternate years at Cranbourne and Berwick.
Alexander Patterson was returning officer for Cranbourne for twenty years and for fourteen years was a member of the Shire Council (President/Chairman 1863-64, 1872-73). He was also Justice of the Peace for the area. Also was a trustee for the Cranbourne Court of the Ancient Order of Foresters, a lodge/guild that was a medical insurance organisation.
Patterson was one of the trustees for the Cranbourne Presbyterian Church and was elected as an elder in that church. As a member of the Farmer's Horticulture Society he gave long service as President, Secretary and Treasurer and was presented with a testimonial of £40 on his retirement.Terence O'Connor, the earliest permanent squatter in Westernport, who held the country now occupied by Berwick, on the old Gippsland road, once said publicly, of him in Cranbourne,
"No man has done more for Westernport than Alexander Patterson
."
He married Marion McMurtrie in 1852 and had a family of four children.
| | | | |
| --- | --- | --- | --- |
| 1. | Thomas Patterson, 95 | (1853-1948) | m. 1881 Cranbourne, Mary Thomson |
| 2. | Helen Richardson Patterson, 81 | (1854-1935) | m. 1886 Cranbourne, Thomas Webster |
| 3. | Alexander David Patterson, 79 | (1858-1937) | m. 1886 Ballarat, Elizabeth Harvey Twigg |
| 4. | John Denham Patterson, 83 | (1860-1943) | m. Isobel Baxter moved to Officer. |
Grandchildren of Alexander and Marion Patterson who were born or lived at Clyde
1. John Alexander Patterson, b. 1906, St. Germains
2. Alice Marion Patterson, b. at St. Germains
3. Alexander Twigg Patterson, son of Alexander David Patterson, lived in Clyde and at different times attended the local schools of Clyde North and Cardinia.

The Patterson Family sold St Germains in 1911 and moved over the other side of the Cardinia Creek to a property in Officer.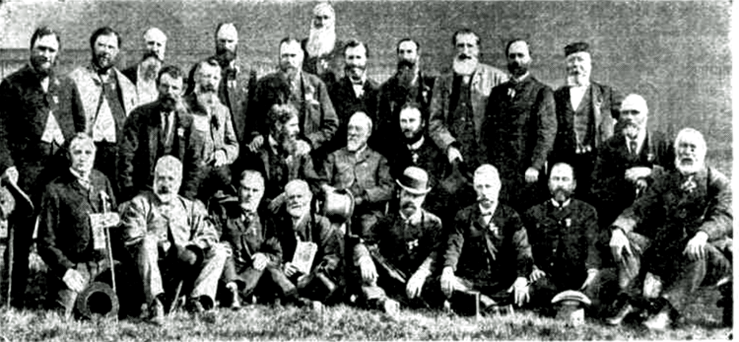 1885 photo l Royal Melbourne Show Members
Alex Patterson standing at the back behind the men.
His son, Thomas Patterson, secretary for 30 years is standing, center row,2nd from the right hand side
Alex Patterson was a council member of the National Agricultural Society of Victoria (Royal Melbourne Show)
more>. .


1. Marion Patterson Mrs Alexander Patterson of St Germains, Westernport

Sources
1. The Good Country pp 51
2. The Argus On line
3. Victoria and its Metropolis Vol 2, p. 39
4. Patterson Family Historian
5. A Clyde History
6. Look to the Rising Sun p. 23

7. The Patterson Family of St Germains, Westernport" by Thomas Patterson 1936