Early Clyde Families
1860's, MANKS-William Eli, 82, (1833-1915)
Anne Manks (nee Shephard) 98, (1835-1932)


Came to the Port Phillip District during the late 1850's and commenced carting general supplies and produce. He purchased land in the Clyde area in the early 60's and returned to England in 1865 to marry Anne Shepherd. On his return he bought his wife and her young sister. His sister-in-law married Mr. Davey. (The Davey family were early settlers at Frankston and Davey's Bay bears their name).

William Manks lived in a cottage at Clyde (North) before 1870 and travelled around this district collecting dairy produce such as butter and then transporting them to city markets. Upon his return he would bring back the supplies of flour, sugar, tea, etc. required by local farmers.

Prior to the 1870's threshing machines and chaffcutters were operating in the district (Chrichton 1860) and William Manks also started to operate similar equipment. The thrashing and chaff-cutting equipment was driven by steam, but were dragged around the country by bullock teams. In this way William Manks was engaged in cutting and threshing in areas such as Lang Lang, Pakenham, Dandenong, Bangholme, Mordialloc, Carrum, Frankston and Mornington. This large area was more easily covered as his sons commenced operating their own crews and machines. At one stage they were operating five chaffcutters and two threshers. Each crew consisted of 5-6 men and they earned 2-3/6 per man per day.

In 1888 William purchased 70 acres at Dalmore, and area bordering the Great Swamp. From 1898 the Manks family lived in the brick house just north of the Clyde (North) School.

The family of William and Anne Manks consisted of eight children.
| | | | |
| --- | --- | --- | --- |
| 1 | William G, 72 | (1867-1939 ) | m. 1891, Sarah Butfield, (Sydney) |
| 2 | Henry | (1868-1936) | m. Sarah Stick- had a son Will - (Cranbourne) |
| 3 | Charles | (1870-1952) | m. Alice Greaves – 5 children |
| 4 | Annie | (1873-1970) | m. Thomas Costello– no children |
| 5 | Gertrude, 5 mths | (1875-1876) | Twins |
| 6 | Amy, 5 mths | (1875-1876) | Twins |
| 7 | Ernest Robert | (1878-1966) | m. Mary Holt, had one son, Thomas (Sandringham) |
| 8 | George Edward | (1880-1948) | m. 1908 Clyde, Gertrude Werrett (1888-1943) |
The eldest son
William Manks
(about 22yrs) left Clyde about 1889, headed for Sydney and in 1891 married Sarah Butfield. William and family came back to Clyde about 1905 for a few years before returning to New South Wales. The photo below was taken sometime between August to November 1915 prior to son Ernest Alfred Manks (19) embarking for overseas military service.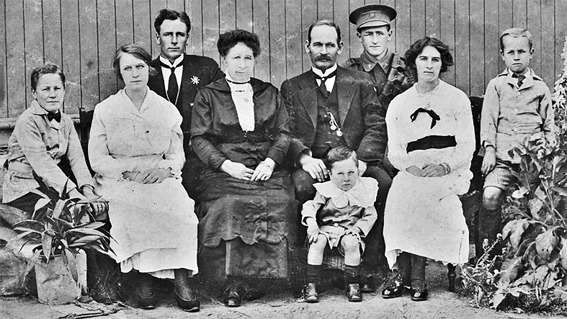 L-R: Henry Shepherd, Amy Kathleen, William George, Sarah, William, Ernest Alfred, Doris Evelyn, Stanley Charles and seated at the front is Alan Auburn Eli Manks.
Photo courtesy of Manks Family Researcher.
Henry Manks was the first person in the district to own a petrol driven tractor. He purchased the tractor from the International Harvester Company who leased the tractor back from Henry to put on show because a similar one was not available at the time. Because of this the tractor was returned to Henry fully restored to in as new condition.

Ernest Manks owned "Fernlea" c 1902, in Tuckers Road, a home listed in the Victorian Heritage Data Base

.Grandchildren of William and Anne Manks who were born or lived in Clyde


Children of Ernest Robert & Mary (nee Holt)




1




Thomas Eli



(1914 - 0000)



Attended Clyde School No 3664 then moved to Sandringham in 1927.
(See 1927 School 3664 Photo)


Grandchildren of William and Anne Manks who were born or lived in Clyde


Children of George Edward & Gertrude (nee Werrett)




| | | | |
| --- | --- | --- | --- |
| 1 | Elma | (1908 - 0000) | m.1. F. Grigg         m.2. Mr Bastin |
| 2 | Amy Jean | (1913 | m. Clifford Heathcote |
| 3 | George Edward Thomas | (1919 | m Marjorie |
| 4 | Bruce Ellison | (1927 - | m. Marion |


Five children of Charles and Alice Manks (nee Greaves)

| | | | |
| --- | --- | --- | --- |
| 1 | Annie | (1910 | m. Francis Cox |
| 2 | Walter | (1912 - | |
| 3 | (Jack )John Greaves | (1915 - | (Woodend) |
| 4 | Clyde Shepherd | (1918 - | m. Heather Armstrong |
| 5 | Evelyn | (1921 - | m. Mr Rennie, |


Great Grandchildren of William and Anne Manks who lived in Clyde
Parents Frank and Annie Cox (nee Manks)
David (dec),
Still living -four great grand daughters and one grandson.

Parents Clyde Shepherd and Heather Manks  (nee Armstrong)
Still living - one granddaugher and two grandsons.

Parents Clifford and Amy Heathcote (nee Manks)
Great grandson of Willilam Eli - Arnold Heathcote (dec 2013)
Still living - one great grandson

Parents Bruce and Mrs Manks
Still living - three great grandsons



Great- great grandchildren of William and Annie Manks


Living - one great-great grandson (grandchild of Clyde and Heather Manks)
Living - one great-great grand daughter (grandchild of Cliff and Amy
Heathcote)



From the website editor

.
Manks Family Researchers can find the Will of William Eli Manks via the Public Records Office of Victoria. How can you do this? Instructions are provided under the heading

Will and Probate Records at http://clydehistorytools.blogspot.com.au/
Clyde Family History Tools is the companion blogsite to provide hints for Clyde family research





OBITUARY.

Death of Mr Wm. Eli Manks.

One of the fine old pioneers, Mr William Eli Manks, passed peacefully away at his residence Foster street, Dandenong, on Monday, July 19. The old gentleman had reached the honorable age of 82 years, had fought with difficulties, and led a strenuous life. The deceased gentleman first saw the light in the town
of Solihull, Birmingham, in 1833, and being enticed to the prospects of Australia with its goldfields of 1857, he came right away to Victoria in the good ship Kent (recognised a fine vessel in the old shipping days, alongside the Port Melbourne Pier).
The deceased gentlemen was of a lively disposition with any amount of energy, and did a considerable amount of prospecting in the early gold digging days. He had a look in at the Gippsland fields and afterwards New Zealand, where he did well. Being satisfied with his prospects in the great Australian Continent, he returned to his native village, eight years after and married his espoused, Miss Annie Shephard, and the happy couple came to Victoria in 1865 in the "Chariot of Fame." The deceased gentleman was an ideal colonist, and the work he put in as an agriculturist was to be conjured with. He was one of the old honest pioneers of the good old English breed that were not afraid of work and building up Empires.
He leaves a widow, five sons, and one daughter, Mrs Costello, wife of Mr Costello, stationmaster, Stony Creek, to mourn their loss. All the Manks family are of the' good old "Bulldog breed." All honor to the "grand old man,'" and he rests in the Dandenong Cemetery with honors upon him like our brave soldiers who have found a lonely grave at Gallipoli. The funeral took place yesterday afternoon, the last resting place being the Church of England portion of the Dandenong Cemetery. The Rev. Veal officiated at the grave, and Mrs Garnar had charge of the mortuary arrangements.



Dandenong Advertiser and Cranbourne, Berwick and Oakleigh Advocate


22 July 1915
Sources:
1. A Clyde History - 1978
2. The Good Country - Niel Gunson p 58,110,
3. Manks family , Alwyn Simpson, Gordon Manks, Ros Kean
4. The Argus On Line
5. Victorian Heritage Database "Fernlea"
6. Dandenong Advertfiser and Cranbourne, Berwick and Oakleigh Advocate
Note: Family descendents should contact the website editor if they wish to correct any personal details.